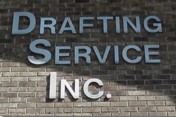 Since 1968 Drafting Service Inc. has been providing structural steel detailing services for the steel fabrication industry
Diversity and Capabilities ----
Over our many years in this business, we have produced drawings for numerous projects and customers. Whether you are looking for someone to detail shop drawings for a power plant in Utah, a mall store or cement plant in California, a gold mining plant in Nevada, a school in Texas, or buildings in New York -- we have the experience to deliver all these kinds of projects for our clients.
Production ----
Drawings are produced with DetailCad, CVSPro(AutoCad format), and by regular hand drafting. Large format scanners are used to change the manually drafted sheets to electronic format so that all drawings are able to be transmitted electronically to the customer. Or, if the client prefers, overnight shipping is always available for an actual drawing on their desk.
Members of ----
Drafting Service is proud to be a member of the National Institute of Steel Detailing (NISD), the American Institute of Steel Construction (AISC), and the American Welding Society (AWS). Our association with these organizations insures that we are kept informed of the latest developments and changes in the steel industry.